7th July 2016
Gil Cooper Resigns after 57 Years in Rotary
<![if !vml]>
<![endif]>
A club stalwart who has had an outstanding career in Rotary, was warmly farewelled last week. Gil had been a member of Rotary for 57 years, a record equaled by few, and he achieved 100% attendance for 53 years, which may be a world record.
Gil was President in 1977-78, awarded Paul Harris Fellow in 1996, PHF Sapphire 2009, and commenced the award-winning Taradale Bulletin team in 2007 with Bob McCaw. President Richard presented Gil with a congratulatory certificate from District Governor Keith Owens to recognise a life of outstanding service.
---
7th July 2016
$3000 donated to Pediatrics Team HBDHB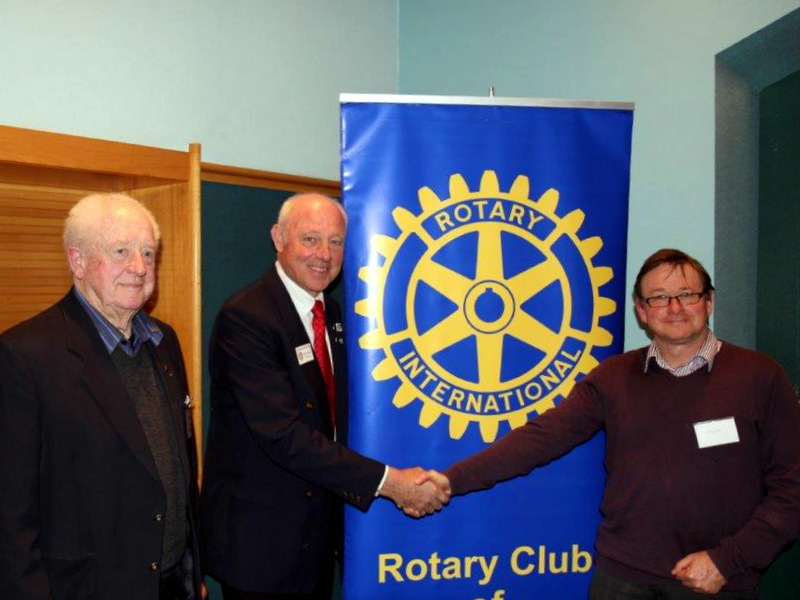 Kevyn Moore, Richard Howell, Phillip Moore
A cheque for $3000 was presented to Phillip Moore (Head Paediatrician of the HBDHB) for the purchase of a Continuous Glucose Monitor to be used in the management of diabetes in children.
This donation was brokered by the Oliver Smales Memorial Trust, a trust chaired by Kevyn Moore
---
23rd June 2016
Change Over 2016-2017
<![if !vml]>
<![endif]>History in the making as outgoing President Paul Bee handed over the Chains of Office to incoming President Richard Howell. This only the second time in club history that a past president has accepted the role for a second time. The last time was in 1971 when Jock Morris agreed to return to office following the resignation of Brian McKinlay early in the new Rotary year.
---
16th June 2016
EIT Awards Night at Scholars Restaurant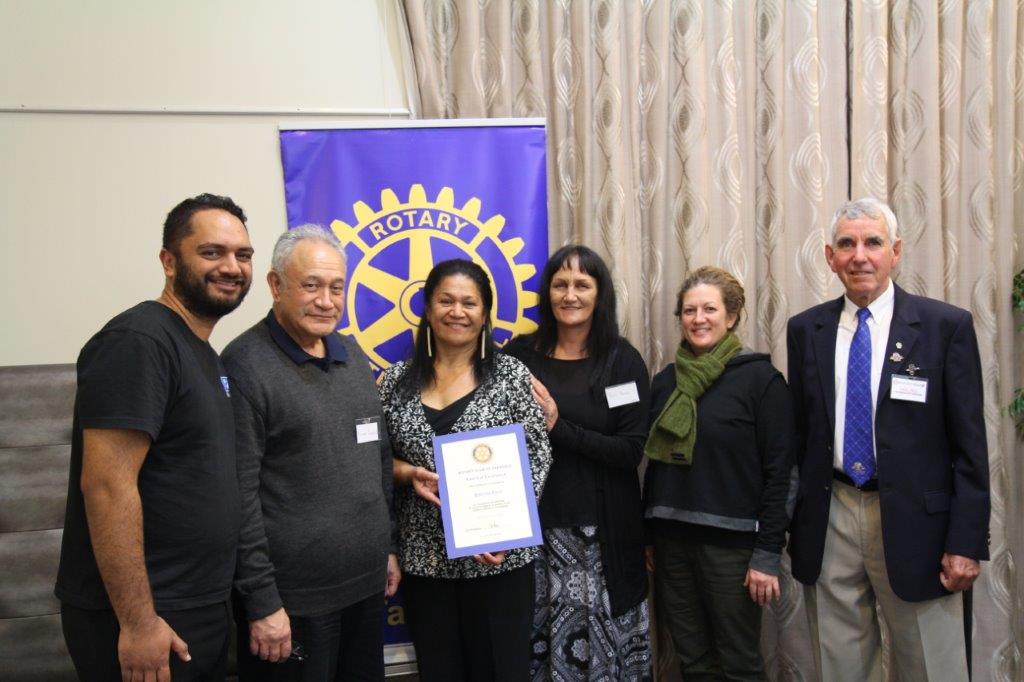 Patricia Emia Awardee in Te Oranga Waka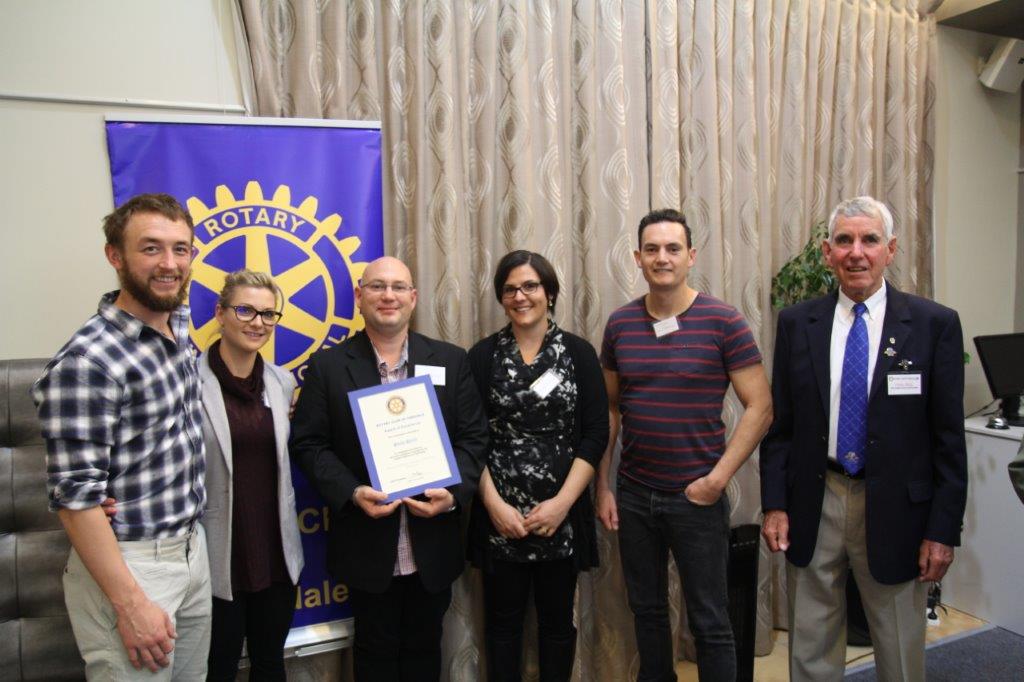 Sacha Pettitt Awardee in Viticulture and Wine Science.
Then the Rotary Club got a special mention. "You guys rock". Read more...
---
2nd April 2016
Puketapu Auction and Fair
<![if !vml]>
<![endif]>
Roger Alexander's Farm, Puketapu
The Club's search for a profitable fundraiser may be over. Thanks to the promotion of an idea proposed by Merv Kite and with the support of a small and enthusiastic team, a highly successful Fair was held in in picturesque grounds of the farm of Roger Alexander. Early indications suggest a profit of $17,000 from the auction, stall rentals, and sponsorship.
On the 30th June it was announced
· The final total for the Puketapu Fair was $16,600 net; a fantastic effort.
---
Gil Cooper recalls service on the Taradale Borough Council and Amalgamation with Napier
<![if !vml]>
<![endif]>
Gil and Pat Cooper
Gil's farewell speech included some historical facts unknown to us.
I was inducted into Taradale Rotary on 26 August 1959, just 8 weeks after the club received its charter. Bill Beaton nominated me and we were "interviewed" by founding president Tom McDonald. Tom laid it on the line what I could expect of Rotary and what Rotary expected of me.. Click here to continue...
---
23rd June 2016
Paul Harris Induction: Bill Hawkins
<![if !vml]>
<![endif]>On Change Over night, Bill Hawkins was rewarded for his remarkable years of service to the Club, having served on nearly all committees, and served as President in 1997-98. He was Chairman of the Charity Auction in 2000. He also has a great record of serving the community in a number of ways, more recently working on the Dolbel committee. Read more at ...
---
6th May 2016
Three new members inducted.
<![if !vml]>
<![endif]>
First husband and wife couple to join the Taradale Rotary Club.
Phil Alexander (Director of Membership) introduces 3 new members.
Graeme (far right) and Barbara (next to Graeme) Thomson are the first husband and wife couple to join the Rotary Club of Taradale. The third member inducted that night was Hamish Goodwin.
---
21st April 2016
Paul Harris Medal Award to PP Warren Cooper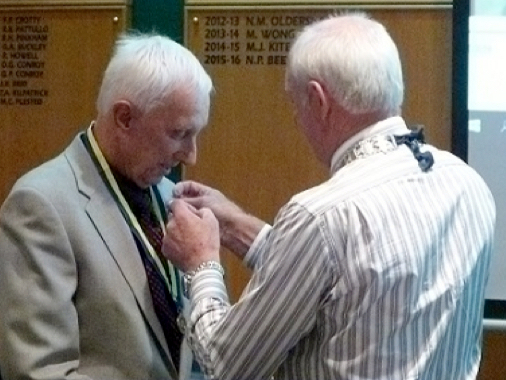 At a Club meeting Warren attended with his wife Raewyn and was greatly surprised to find he was to be inducted as a Paul Harris Fellow.Acting President RIchard Howell made the presentation.
---
12th May 2016
Peter Sugden Retires.
<![if !vml]>
<![endif]>
President Richard Howell presented Peter with a Certificate in recognition of the immense contribution he has made to Rotary over the 52 years he has been a member since joining the Club in 1964. He was President in 1981-82 and made a Paul Harris Fellow in 1988.
19th March 2016
Shakespeare in the Park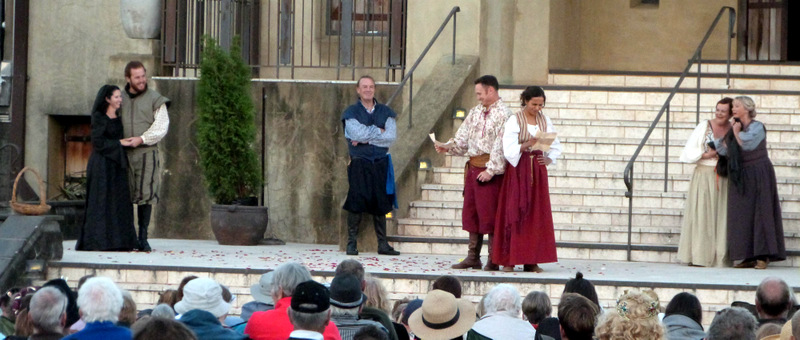 A good number of members turned out to assist Graeme Duncan and the Will Power Trust put on a very good production of Shakespeare's "Much Ado About Nothing". The Club earned $3000 from the event. Read more...