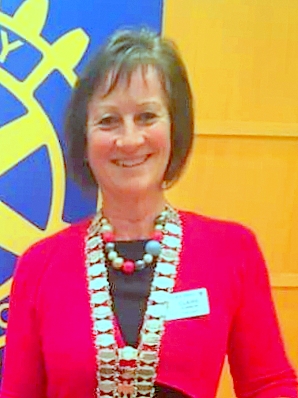 President
Claire Connor
06-844-0094
027-577-7174
President Elect
Pending
Past-President
Richard Hay
Secretary
Jane Beaven
Treasurers
Kaye Wishart/
Club Administration
Anne Worley
Foundation
John Reid
Membership
Tracy Hunter
Community
Brian Kirk
Youth
Robert Pattullo
About Taradale
Rotary
If you would like to know more about the Rotary Club of Taradale, and perhaps enquire about joining the Club, then please ring the President at
027-577-7174
Rotary Club of Taradale
Change-Over 2020-21
On the 25th June the Rotary Club celebrated the induction of Claire Connor, the first women president in the Club's 61 year history.
Directors 2020-2021
Jane Beaven, Richard Hay, Tracy Hunter, Claire Connor, John Reid, Rob Puttollo, Brian Kirk, Kaye Wishart
Anne Worley (front)
Taradale Town Hall
The Town Hall is an attractive assembly hall available for use by the local and wider Hawkes Bay community.
Puketapu Auction and Fair
The Club holds an annual Auction and Fair (PAF) on the property of Roger Alexander at Puketapu. For more information click the following link
Oliver Smales Memorial Trust
The Trust supports the education and training of therapist and nursing staff working with children and youth in Hawke's Bay in co-operation with the HBDHB. To learn about the Club's involvement in this Trust,
Dolbel Reserve
Dolbel Reserve is a passive Council Recreation Park of some 18ha on the Western Hills of Taradale.
Kelvin Tremain Memorial Education Trust.
The Kelvin Tremain Memorial Education Trust administers a fund for the benefit of students NZ wide and can partner with other similar trusts globally.
For details of how to make an application for KTMET funding, click here.